Home
Welcome to Cebu Beach House!
Our house is integrated in the first-class resort complex "Seascape", and the 2010 newly built Crimson Spa and Resort in Mactan with world class standards and the finest amenities..
The beach house is constructed in a modern design with high ceilings (approx. 280 sqm. of living area), all fittings were done to highest international standards. Besides the 3 bedrooms, there are also 5 bathrooms, a fully equipped European-standard kitchen, a living and dining room, as well as a garden with a private car park and garage.
Gracing the seaside at beautiful Cebu Crimson Spa and Beach Resort with a new, stunningly designed architecture, our first class 1 story 3 bedroom, fully furnished and fully A/C beach house feature an integrated bar and terrace at the 1st floor with breathtaking ocean view, and a view of the resort.
The house-rent also includes an international cable TV at every level and at every room, Wireless(WiFi) Internet [WiFi is available at the Lobby at the resort and optional at the house]. Using the coco walk where the houses are located, you will find yourself in the most luxurious newly built resort in Mactan/Cebu/Philippines, which is presently, by far the best and most luxurious in Mactan. It will take a one minute walk to reach the club house and all international restaurants which are located directly at the white sand beach facing the resort complex.
Amenities include: A huge club house, a seminar and function room, dining and music lounge, health and spa centre, badminton indoor courts, three swimming pools, a gym, four high-quality international restaurants, children's club etc.
Our Rental Prices
Rental Price Per Day
$160 USD
(P6,680 Pesos/Day)
Rental Price Per Week
$700 USD
(P29,650 Pesos/Week)
Rental Price Per Month
$1,900 USD
(P85,500 Pesos/Month)
We also have discounts for long term rentals. To inquire about our long term rental rates, Contact Us!
Make your Reservation Now!
And start enjoying that beach life in one of the best and most exclusive resort in Mactan!
Why our Cebu Beach House?
The 3-Tiered Infinity Pool
Immerse yourself in our world-class Infinity Pool!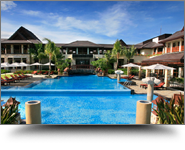 Private Beach
Enjoy the sun or take a dip in our pristine white sand beach!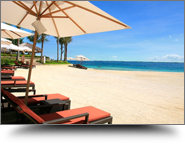 World-Class Accommodation
We have furnished our place with only the best things!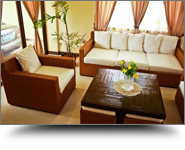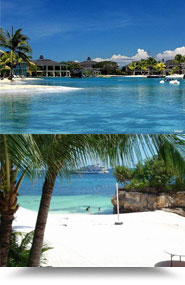 Mactan or Maktan is a densely populated island located a few kilometres from Cebu Island in the Philippines. The island is part of Cebu Province and it is divided into Lapu-Lapu City and the municipality of Cordova. The island is separated from Cebu by the Mactan Channel which is crossed by two bridges: the Marcelo Fernan Bridge and the Mactan-Mandaue Bridge. The island covers some 65 km2 (25 sq mi) and is home to some 430,000 people, making it the nation's most densely populated island.
Being one of the major tourist Islands of Cebu, Mactan Island boasts of a diverse collection of tourist spots and attractions. Being a coral island, Mactan offers some of the best diving, snorkeling, island hopping, jet ski, sailing and cultural activities of any island in the Philippines.
The only aquarium attraction in the Visayas is also located on the island.
8 Things that Make Crimson Resort and Spa Mactan a Total Standout
The island of Mactan is littered with world-class resorts. These resorts cater to different types of travelers and offer a wide range of services to its guests. Although most of these establishments pride themselves in being unique and original, only a handful actually stand out… Click to Read Full Article